Women Who Inspire Me: Jenny Benscher, co-founder of Lema J Design
"Is solace anywhere more comforting than that in the arms of a sister"
– Alice Walker
Women Who Inspire Me: Jenny Benscher, co-founder of Lema J Design
I met Jenny Benscher at a Chicago-area art fair this summer, and was immediately drawn to her beautiful jewelry, and even more so, the story behind how she founded her company.  Not only was her display breathtaking, the "cuffs" she was selling were some of the most remarkable, original pieces I've ever seen. I was intrigued, inspired, and wanted to know more. Jenny graciously accepted my invitation to write her story.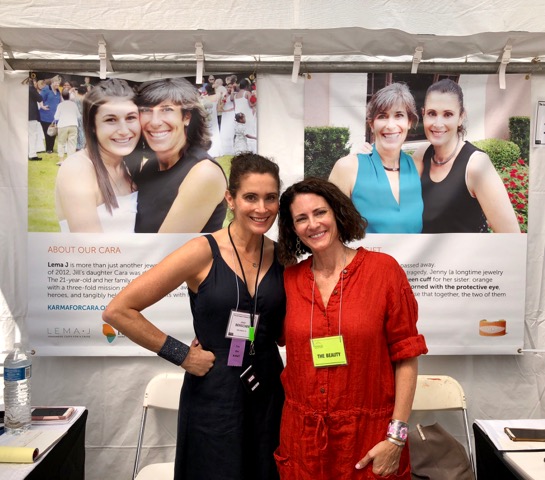 Sisters Jenny Benscher and Jill Becker founded Lema J in November of 2013. Their premiere collection of cuffs is entirely handcrafted out of exotic hides, lined with soft lambskin and set in a variety of finishes.
Lema J, however, is more than just another jewelry line. In the fall of 2012, Jill's 21-year-old daughter Cara was diagnosed with leukemia. During the course of Cara's treatment, she and her family started Karma for Cara, a foundation with the three-fold mission of engaging youth, awarding unsung heroes, and tangibly helping patients with leukemia.
When Cara passed away four months later in December 2012, Jenny handcrafted a cuff in Cara's favorite color (orange), adorned with a protective eye, and gave it to her sister, Jill, as a gift. Though they did not know it at the time, this cuff — now called the "Karma for Cara Cuff"–was the beginning of Lema J Design. https://lemajdesign.com/pages/gallery
Lema J is committed to making jewelry that is not only beautiful but also purposeful: jewelry with a cause. This is why 100% of the profits from every sale are donated to the Karma for Cara Foundation in the hopes of furthering Cara's mission and inspiring love, empowerment, motion and adventure in as many lives as possible.
Can you tell me about the Karma for Cara organization?
The Karma for Cara Foundation is a non-profit founded by 21-year-old Cara Becker and her family while she was being treated for leukemia at Johns Hopkins Kimmel Cancer Center in October of 2012. The seeds of Karma for Cara began in September 2012 when Cara wanted to hold blood drives as a way to give back because she saw the tremendous need for blood donors and hoped to corral community support.
Cara had always been involved in community service since a young age, and she and her family saw a tremendous need to support other patients who were going through the same challenging treatment. Tragically, Cara passed away in December 2012 from complications from leukemia. Months after Cara passed away, her family decided to continue her focus on helping others which is when the Karma for Cara Foundation was established. The Karma for Cara Foundation has the threefold mission:
To promote and support youth engagement and service to others in communities throughout the United States.
To work to reduce the suffering of cancer patients and their families.
To recognize and reward individuals and organizations that are having an outsized impact in service to others due to their passion, energy and smarts.
Though Cara passed away, her memory and her dream of helping others live on as Lema J and the Karma for Cara Foundation continue to strive to make even a small difference in as many lives as possible.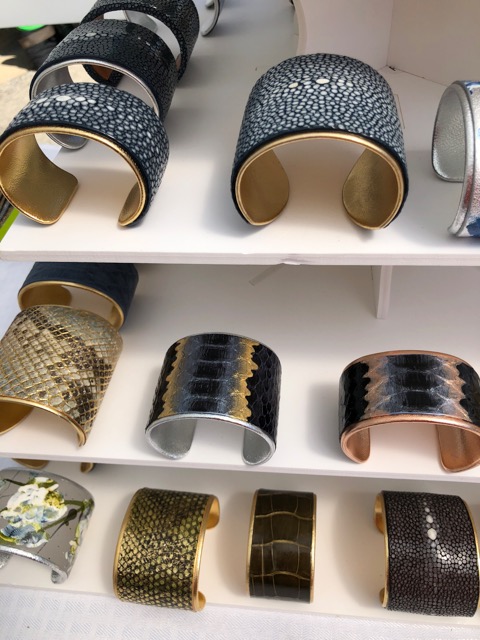 The Karma for Cara Foundation is currently working on a handful of exciting projects, including: printing and distributing "Cara Cookie Volunteers" children's book, instituting Karma for Cara Clubs in high schools, awarding micro-grants for kids completing community service projects, developing a short documentary, partnering on volunteer efforts with Living Classrooms Foundation, expanding its nursing recognition award program, and supporting organizations that benefit cancer patients and their families. www.karmaforcara.org
According to Jenny, "Every time we sell a Karma for Cara Orange Protective Eye Cuff, we donate an identical one to a leukemia patient, or a family member of a leukemia patient. My sister and I have received many letters on how small acts of kindness meant so much to them, when they were down. It's wonderful to touch someone in a deep way that's meaningful, it makes a difference in someone's life — they feel cared about and important." 
How did you come up with the name Lema J for your company?
Well, I'm Jenny and my sister is Jill, who I started this company with in 2013. "Jill and Jenny," in the umpteen thousand combos we researched for a website name/domain, were taken.  There were the numerous other names we liked the sound of, but all were taken and we hit a wall. Around the same time we were brainstorming for name ideas, we had a met with the lovely Lema Khorshid (a business attorney in Chicago) for dinner to go over some business stuff. And once she corrected my pronunciation of her name several times, Jill and I just loved the way "Lema" sounded (Lema, pronounced with a soft "e" like in "lemonade"). It was soft and flow-y. And, it just so happened that Lema Khorshid is a kind, strong, independent, smart woman who we liked a lot. So we decided to use her name as an acronym for the values we founded our company on: Love Empowerment Motion Adventure,  and the J is for Jenny & Jill.
I notice on your website it says "Handmade Shagreen Cuffs." Can you explain what  "shagreen" is?
Shagreen is a fancier name for stingray, or an untanned leather covered with small round granulations. It is extremely strong.  Historically, (and even today) it was used as a sheath to protect warrior's sword blades.
Do you personally make all the cuffs?
I did personally make all the cuffs in the beginning, but I just couldn't keep up and I hired and trained some helpers in my studio. Today, three to four women assist me with the various processes to make each cuff. The designs, cropping, paint colors and more are all by my hand.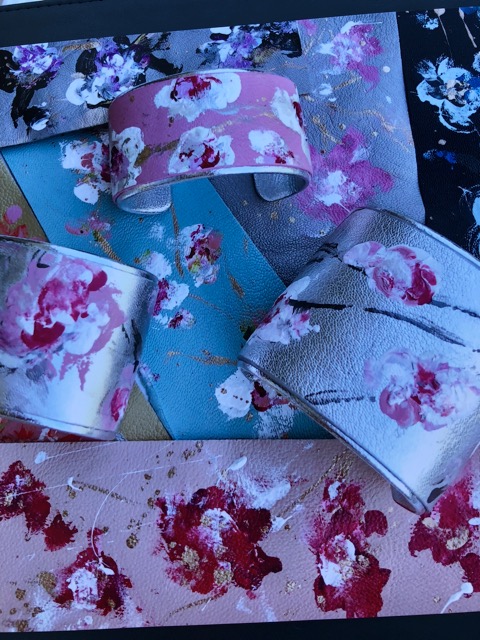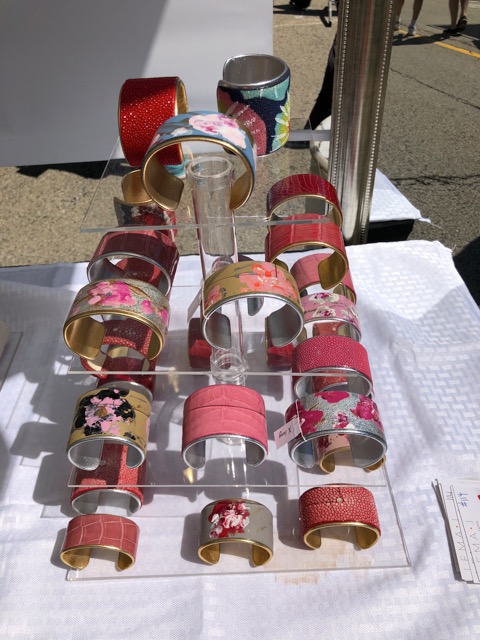 How long does it take, on average, to make one of your cuffs?
Each cuff takes about 5 hours over the course of three days, which includes lots of curing time.
Where do you source the exotic stingray and python leathers?
I import the stingray hides from Thailand. People eat stingray (i.e. skate on a menu), and the hides are a byproduct.  I source the other exotic hides domestically, which go through strict international & U.S. guidelines & inspections in order for the end user (me) to obtain them.
Do you get any pushback from animal lovers about the use of exotic skins?
Not much, but there have been a handful of people who have expressed their displeasure over my use of the animal hides. Some people have been quite rude; others just choose not to buy my pieces.
Do you mostly sell your cuffs at art fairs in the U.S.?  Or do you sell most of them online?
It's a good mix. I attend about six fine art/craft festivals a year in various parts of the U.S.  In addition, I participate in several charity fundraiser functions as a vendor. I also do home shows. Those are usually the best, because the women who attend want to support our cause, plus they love the cuffs. Online sales are also great, but those are mostly from people who either already own a cuff and know how they look and feel and want to add to their collection, or by friends of theirs who've seen the cuffs in person first. I'm lucky to have many loyal customers.  Between supporting Karma for Cara and the cuffs in and of themselves, I guess we must be doing something right because more than just a few women have collections of 5-15+ cuffs… it humbles me, actually.
What is the price range of the cuffs?
Cuffs range from $280 – $495, depending on the design and width. I also make Strappys, which are $175. I offer the cuffs in various width sizes, including: 1",1.5″, 2" and 2.5". The 1.5" width is most popular size.
 What is your most popular seller?
The first couple years the Gold Disco and Black Protective Eye were bestsellers. The Ruffle is also a big seller.  The Polished Pearl, in black, navy, gray and toffee colors are most popular since they go with everything, and they're quite elegant. The cuffs are such a vast array of styles and colors; it's all based on personal preference. And, the cuffs are flexible, so they can be shaped to accommodate many different wrist sizes.
What is your background before you started this business?
I have an art background.  I graduated from Boston University with a liberal arts degree, but in my senior year I started painting and drawing more and more, and determined that's what I wanted to do. I went to study at RISD (Rhode Island School of Design) for one year, then went to Maryland Institute College of Art (MICA) in Baltimore, my home town. I got married and had three kids, and while I played around drawing and painting during those years, overall, art took a back seat. I started designing jewelry 10 years ago, and worked with a friend who was a metal smith from Columbia. I came across the stingray leather five years ago and it fired up my creative juices! I went on eBay and bought a stingray hide and starting experimenting with it. I wanted to make something for my sister, Jill, and decided to use Cara's favorite color, orange, and make a cuff with a protective eye, and I used soft leather to cover the metal so the cuff would feel like a hug. The cuffs I make today have evolved quite a bit from those first year creations. I love to see the growth!

What are some of the challenges you've faced as a business owner that you never expected?
Honing it in.  I want to do so many different things and I've come to realize that I'm not able to do it! I find myself spread a bit too thin too often. Although my kids are in high school & college now, I'm still "hand's on." I wish I had 10 more hours in each day. I want to continue designing and I also want to learn how to sew, make handbags, and other fun projects.
If you could describe your personality in three words, what would they be?
My best friend describes me as, "Classy, Sassy, and Innovative."  I think creative is a given, so I'll add committed, compassionate, and enthusiastic.
What's been the most surprising lesson you've learned in business?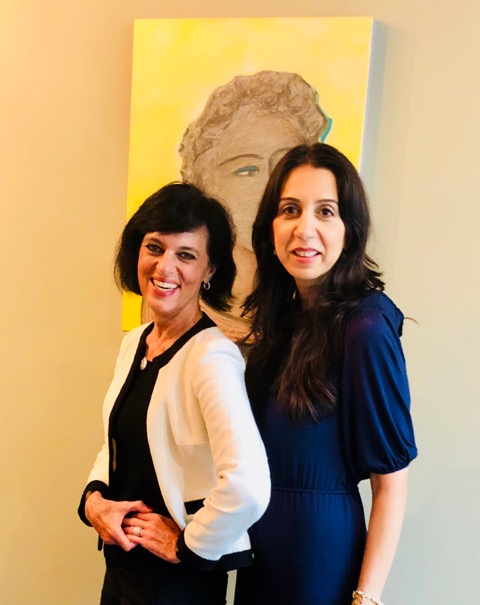 That some business owners would take advantage of a new small, charity-based start-up. Call me naïve. When Lema J first started out, a couple of stores simply refused to pay us after receiving their custom orders. We didn't know enough to ask the stores to pay up front. Our lawyer, Lema, was outraged and took on those battles herself out of the goodness in her heart. Now, everything has to be paid in full before sending orders to new clients.
Another little something that surprised me was to learn that I'm a terrible multi-tasker!
On a positive and more important side though, I've learned that I have the drive and inner strength to create & sustain an artsy business.  I've grown a great deal by being a part of this business. When my sister and I started the company, I was in a place where my belief in myself had waned a bit; I had self-confidence issues. I wanted nothing to do with the actual business part, I just wanted to make things, which, honestly, is still my preference. But, I've learned to step it up.
How do you get most of your business?
For the first couple of years, we did a lot of home (trunk) shows, which was great, since we were able to build up a strong customer base who have stayed loyal, and who have also introduced us to many of their friends.  The cuffs are niche product for a niche market. The majority of the home shows started out in Maryland and places where my sister had strong connections, including south Florida and the Chicago area. Jill is the go-getter, I'm more the artsy "maker" type. It's been a great combination. As the home shows began to taper off, we started participating in art shows, as well other events and fundraisers where select vendors sell their lines.
What makes you proud of Lema J Design?
Firstly, I makes me feel great to have started an exciting new collaboration with artist Liza Hathaway Matthews. Liza paints her very cool abstract florals on leather and I make them into cuffs. https://lemajdesign.com/collections
What really makes me feel proud is that I've created something that connects people to a cause that's bigger than themselves. They feel really good about supporting Karma for Cara while also getting a beautiful cuff they love to wear or gift!  And, in all honesty, it makes me feel terrific and proud to see so many people wearing pieces that I made, and also that they come back for more.
Contact: jenny@LemaJDesign.com
Website: www.lemajdesign.com
Facebook: https://www.facebook.com/LemaJDesign
Instagram: @lemajadesign