Women Who Inspire Me: Consuelo M. Martinez-Quattrocchi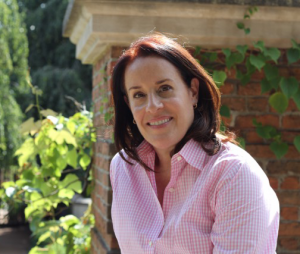 Consuelo M. Martinez-Quattrocchi is someone I've admired since the moment I met her at an event several years ago.  Consuelo is Managing Partner of both Villa Gabriella, producers of certified organic balsamic vinegar and extra virgin Italian olive oil, and Villa Graziella, artisan crafted wines made from organic grapes in the Chianti region of Tuscany.  She is one of the most optimistic, gracious and energetic people I know. Consuelo is someone who doesn't just talk about what she wants to do, she actually does it.   She turned her passion for organic food and wine into a thriving business. Plus, Consuelo recently did a product launch in China!  Certainly no small feat for any business owner.
Having lived in Italy 10+ years, Consuelo always enjoyed discovering regional Italian foods and local wines, and was curious why fruit, vegetables and even wine tasted so different in Italy than in the U.S. This lead her to start learning about sustainability, organic practices and food standards in Italy, vs. "the GMO-laced, chemical-infused food U.S. conglomerates make, including wine." According to Consuelo, she states, "Frankly, it opened a Pandora's box for me. The more I read, the more I learned about the fundamental differences in food in the U.S. and the rest of the world. I often thought, there's got to be a way to enjoy food and wine that is also not bad for you."
Consuelo periodically toyed with the idea of importing Italian wine and even olive oil, and always brought them back in her suitcase, with each trip to Italy.  The thought remained in the back of her mind over the years.  During one of Consuelo's many trips to Asia for work while a Vice President of the International Division of H20Plus (a personal care products company), something clicked.  Over a glass of wine, a Hong Kong colleague and friend suggested Consuelo import wine from Italy to Asia.  Consuelo started doing research in her "spare time" and found that indeed, people in Asia were beginning to adopt Western eating and drinking habits, including drinking wine with meals. The idea stayed on the back burner… and Consuelo continued to wrap wine and olive oil in padded zip lock bags & place them in her suitcase with each trip to Italy.
The change did not come immediately.  Consuelo continued to work on the 'wine project' at night and on weekends while she worked full time and traveled (internationally 60 percent of the time). In early 2013, after reading in the Wall Street Journal about Walmart's decision to convert up to 25 percent of its food and produce to organic quality, Consuelo realized the U.S. market was ready. According to Consuelo, "If Walmart was venturing to take a niche grocery category, available to only those who could afford to pay premium prices, and implement a strategy to offer organic produce, dairy and meat at reasonable prices, the time had come to make the change."  She left H2OPlus in summer 2014 to become a full-time entrepreneur and did not look back!  Consuelo launched Villa Gabriella Certified Organic Extra Virgin Olive Oil and 8-year Aged Organic Balsamic Vinegar in fall 2015, and Villa Graziella Artisan Crafted Wine, made with organic grapes, in spring 2016 in the U.S.
Consuelo's previous experience at H20 Plus allowed her to hone numerous skills that were instrumental in establishing her own business.  She had the opportunity to work closely with distributors in Europe, the Americas and throughout Asia, and gained an understanding of the fundamentals of supply chain management from sourcing, manufacturing, and quality assurance. Now Consuelo understands international regulatory laws from one county to the next as well as global shipping and logistics — all crucial skills to have when launching a new business like hers.
I wondered what it was that made Consuelo decide to cut the cord from a corporate job and take the leap into starting her own business?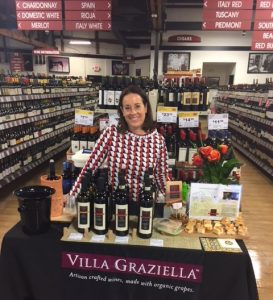 "Over the years I've seen graduate school classmates and work colleagues go into business on their own, which was inspiring to me.  Not one person said, 'I regret leaving the corporate world.' In fact, all of them said, 'I wish I had done it sooner!'"  Consuelo continues, "I've also been extremely fortunate to learn from some very dynamic entrepreneurs, business owners, and incredible managers who taught me so much throughout my career.  My husband, also an entrepreneur, has also been a tremendous influence and supporter of being a business owner.  He continues to challenge me and inspires me to be the best I can be every day."
When Consuelo mentioned Villa Gabriella wines launched in mainland China in the summer of 2017, I was intrigued.  I wondered how she launched an organic product line as a woman business owner there.  While wine consumption in China is growing, it's still not mainstream, as it is in many other countries.
"The move into mainland China was quite an accomplishment. I am very grateful to our Hong Kong team for leading the project," Consuelo explained. "Both Beijing and Shanghai are active, lively markets for international food and wine products, but already established, very competitive and difficult to gain entry."  Instead, she and the Hong Kong team took a different approach. "We decided to launch in the '2nd tier' city of Wenzhou, 2.5 hours south of Shanghai, with 8.5 million inhabitants and a large, growing entrepreneurial middle class."
As Consuelo learned, the role of personal relationships is crucial to doing business in mainland China. "We were fortunate to work with the right partner who looked at the business strategically as we do, one who shares our vision on organics and sustainability, from a personal well-being standpoint to contributing to the health of our environment."  Her partners, Lucheng Trading Co., are made up of young team; the company chairman is in his mid-40's, and most employees are in their early 30's.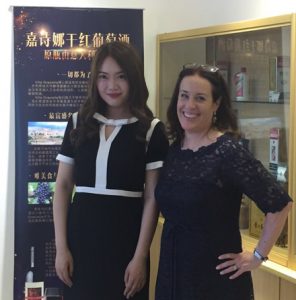 What is interesting is their strategy in promoting organic food and wine. Many consumers choose organic food and wine for health reasons, other consumers are aspirational, preferring Western made food and wine. The Lucheng Trading team have taken it a step further in educating their clients on the environmental benefits of sustainable farming and organic agriculture to benefit future generations. According to Consuelo, "They are developing a strategy to include eco-tourism hospitality in China, including restaurants, hotels, and resorts, where education on organics will go beyond the personal health benefits. This is very exciting as we look forward to a long-term partnership with Lucheng Trading Co. and their team."
I asked Consuelo some of the challenges she's faced as a business owner that she never expected.  She states, "Whereas our retail distribution is doing quite well with our Villa Graziella wines available at Binny's and Whole Foods market Chicago stores, I expected to have more restaurant and bar distribution.  The restaurant market in Chicago is very dynamic with new restaurants opening all the time.  It is extremely competitive with a lot of quality wines available from Italy — perhaps not organic or even sustainable, but good, drinkable wines from many Italian producers.  We constantly have to find a way to differentiate ourselves."
Villa Gabriella Organic Extra Virgin Olive Oil and 8-year Aged Balsamic Vinegar are available at Chicago area Treasure Island and Sunset Foods grocery stories. Villa Graziella Artisan Crafted Wines are available at 31 Binny's Beverage Depot locations and at Chicago Whole Foods Markets.   Villa Gabriella olive oil and balsamic vinegar can also be ordered online at www.villagabriellaorganic.com.
Facebook:
www.facebook.com/villagabriellallc
www.facebook.comvillagraziellaorganic
Twitter:
Instagram: