Women Who Inspire Me: Ana Miyares, Photographer
Women Who Inspire Me: Ana Miyares, Photographer
I first met Ana when she became the photographer for the Professional Women's Club of Chicago (PWCC) luncheons. I'm consistently impressed with her exceptional work and ability to capture people's personalities through photographs. When I recently hired Ana for a project, I discovered a bit more about her background, and was inspired by her story.
Ana's parents, Marta Clemente Miyares and Marcelino Miyares, immigrated from Cuba after the Cuban Revolution in 1959. (The Cuban Revolution happened because Cuba's communist leader, Fidel Castro, was able to gain enough support to overthrow the dictatorial leader of the Cuban government, Fulgencio Batista. Batista was also a brutal dictator who censored the press and cracked down on all forms of dissent. A Cuban exodus began as the new government, lead by Fidel Castro, allied itself with the Soviet Union and began to introduce communism. From 1960 to 1979, hundreds of thousands of Cubans left Cuba.)
Like most immigrants who leave their home country, Ana's parents left their life and belongings in Cuba. They had nothing but the power of their minds to rebuild their life here in the United States. Ana's father Marcelino fought in the Bay of Pigs Invasion — a full-scale invasion of Cuba by 1,400 American-trained Cubans who had fled their homes when Fidel Castro took over — and became a prisoner of war. Marcelino was released in December of 1962, and reunited with Ana's mother in Miami. Ana's mother Marta escaped via Venezuela, and made her way to the United States when she heard Ana's father was still alive. Marta was 21 and had nothing but one suitcase…as Ana says, "My mother's whole life as she knew it was in one suitcase."
Ana's parents started their lives in Washington DC, then made their way to Chicago. Ana's father was obtaining his PhD in Political Science at Northwestern University, so her family eventually settled in Evanston, IL. Marcelino realized a void in the Hispanic market and started doing marketing geared toward the Hispanic market. He created Chicago's first Hispanic marketing and advertising agency in 1969. The agency, OMAR (which stands for Operations, Marketing, Advertising, Research), opened the year Ana was born.
Ana's parents only spoke Spanish to her. It was Ana's first language, but English was dominant through school. As Ana recalls, "Thankfully, my parents wouldn't let me or my siblings speak any English to them, and it's been an invaluable gift and asset."
Tell me about your background before you started Ana Miyares Photography.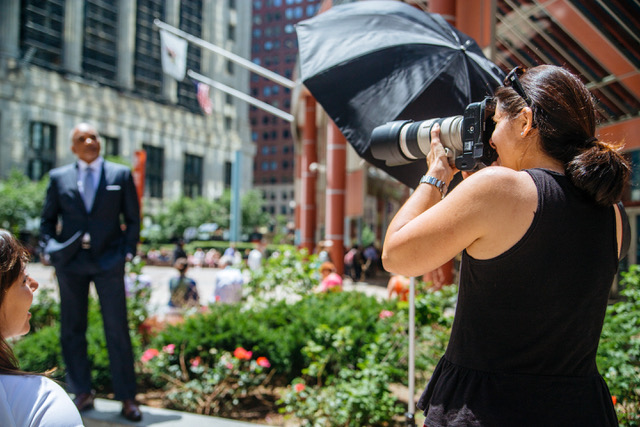 Since my parents had the first Hispanic ad agency in Chicago, I grew up in the ad agency business.
I am the youngest of four children, and we all attended Sacred Heart and Hardy Preparatory, strict Catholic schools in Chicago. That education, and the relationships I made there, are some of my fondest childhood memories.
Every day after school, I would either go to my grandmother's house, or the ad agency. At the agency, I would hang out with the creative team, sorting their Sharpies® or watching them draw storyboard presentations.
After college, I worked at the agency until my mother closed it in 1995. From 1995-2001, I worked at a marketing agency called Frankel (since acquired by Publicis, which also owns Leo Burnett). In 2001 I decided to open my own business, Ana Miyares Photography.
What are some of the challenges you've faced as a business owner that you never expected? 
One challenge is constantly having to prove my worth. Everyone thinks he or she is a photographer. They take photos with their phone, they get creative with filters and Photoshop, and think it's easy.
It took me more than 40 years to learn what I know. Our dear family friend was a photographer with the Chicago Tribune. He saw my passion for photography and taught me everything technical I needed to know. He gave me my first collection of TIME Photography books when I was nine years old.
I started with a Canon AE-1 in the film days, and built my own darkroom at age 13 in my basement. I relearned everything with the digital curveball that hit in 2004.
I have taken workshop after workshop from portrait photographers I have admired since I was that little girl in the creative department, sorting mail and gazing through photographer portfolios.
There is a critical combination of lighting, technique, composition and vision involved in taking a photo; you don't just point and shoot.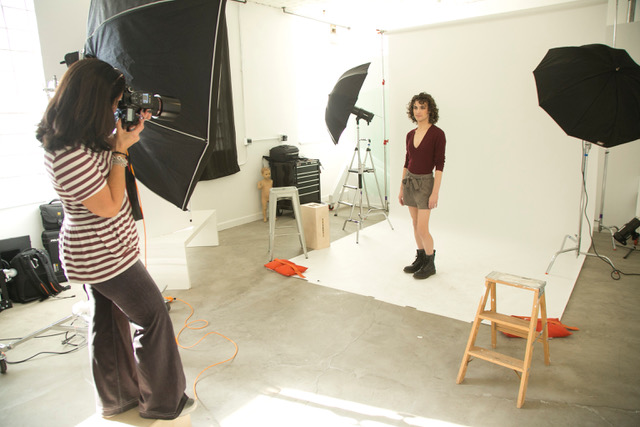 You have a magic way of getting people to feel comfortable when you photograph them. How do you do that?
Everyone is afraid of the camera. It's a natural fear to be documented, permanently. To reveal yourself to a stranger doesn't come naturally to most people.
Everyone has something that makes them sparkle. And EVERYONE has a story. I love photographing people because I love hearing about their stories. So if time allows, I will take the time to learn something about them. It could be as simple as hearing how many kids they have, or how long they have been employed at their company. I want them to know I care about them, and investing in who they are is part of it.
Did you have a favorite photo shoot? If so, why?
There are too many favorites! I have had the privilege of photographing celebrities, politicians and everyday families. My favorite celebrity was Beyoncé. We were shooting a national campaign for McDonald's Children's House Charities. I was taking portraits of Beyoncé with a darling girl who had terminal cancer. I was done shooting what I needed, and Beyoncé was engaged in sweet conversation with the girl. Her entourage was rushing her to move on to the next child. Beyoncé looked up at me and asked if I had everything I needed. I confirmed I did, then she looked at her people and said, "I'm enjoying her company" (the little girl's)…in other words, don't rush me. Beyoncé was kind and genuine to me and that child.
My favorite politician was Joe Biden. He was speaking to a room of hundreds, but before that, I shadowed him in a private reception of folks eager to meet him. He introduced himself to me, took my hands with both of his and said, "Lovely to meet you; make sure you get my good side." Now I get that a lot, but his tender nature and warm, honest smile melted my heart.
During another private reception, I had the opportunity to photograph Sally Field and Steven Speilberg with donors who paid lots of money to pose with them. I had about two minutes with each person, so there was no time for pleasantries. Steven kept moving around off his mark, so I loved directing him to "Get back to your mark," and "Stop schmoozing and look at me." He and Sally made the best of the "grip and grin" experience and made everyone feel special…myself included!
While covering a celebrities is fun and challenging, my most rewarding work is capturing moments in families lives. To be invited to witness a birth, or children while they still want to hug their parents…that's a privilege. And to know that mother or parent will keep those images and memories forever is an immense honor and joy.
What's been the most surprising lesson you've learned in business?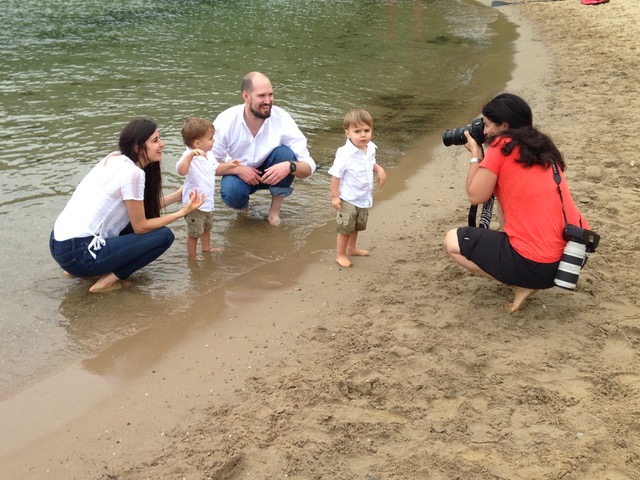 One thing I've learned in business is that you can lose it as quickly as you got it. There will always be a better photographer; one who's better priced, or offers a quicker turn-around time. But if your client truly values your work, respects your time and talent, they are less likely to look elsewhere.
I always have my client's best interest in mind. I am always trying to create better images, improve our workflow or anything that makes their job easier and/or look good.
Not every image is award-winning when I look through the camera, but with every click I ask myself, "Is this my best? Can I compose it better? Would I be proud of this if it was last image I ever shot?"
If you could describe your personality in three words, what would they be?
Outgoing, optimistic, passionate, and considerate (oops, one extra).
Contact: ana@anamiyares.com
Website: https://www.anamiyares.com/
Instagram: @anamiyaresphotography